The most striking feature in Frantz Lechleitner's 1990's player is the substitution of the normal mandrel for a pair of discs, one at either end of the cylinder. Although not as original as his 1980's model, this is not the usual way to hold the cylinder in place. The cylinder is gently clamped between the discs, which are coated with foam rubber on the inside. This method is said to work well especially with slightly cracked or repaired cylinders.
Over this mandrel of sorts sits a modified linear Revox arm originally built for playing LPs. It can be raised to make space for cylinders thicker than standard size, and also swivels so as to get out of the way when a cylinder is fitted for playing. The three black buttons for maneuvering the arm are placed in the middle of the front of the player.
It is not clear to me how the cylinder is driven. In the pictures on this page we see a brass pulley on the right-hand end of the mandrel axle, but there is never a drive belt on it, there is no motor on the base plate, and no hole in the base plate to let a belt pass through to a motor underneath. Maybe the driving force comes through the block holding the mandrel axle.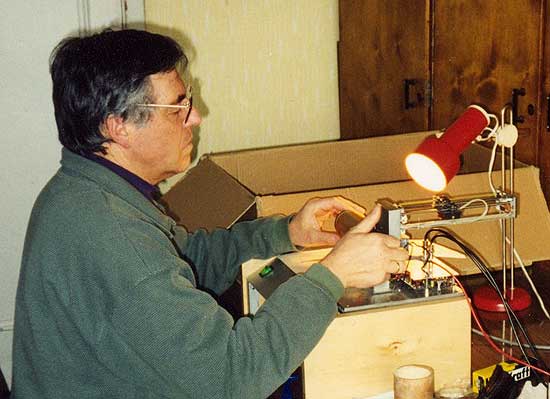 Mr. Lechleitner adjusts a wax cylinder on the player in the premises of the LFK in Riga
In early 1998, Mr. Lechleitner took his player to the Archives of Latvian Folklore (LFK) in Riga and there transferred the collection of 100-odd cylinders with recordings of folk songs. Some of the songs can be heard on a CD edited by the LFK.