Henri Chamoux got me out of the problem by actually sending me a mandrel with shaft and mount and pinion. Beautiful work, and very silent. The mandrel is long enough to accomodate cylinders of slightly different inner dimensions. When first trying it out, a splitting Blue Amberol made me believe it was too thick to take on the cylinders in my collection, but when setting it up to take some of these pictures, I discovered the thickness is quite right.
Speed is read by a stroboscope produced with Strob-Exec, a DOS program written by Adrian Hindle-Briscall, see my stroboscope page.
In order to make the player as small as possible, I wanted to orient the motor horizontally with the pinion pointing outward. However this meant the motor was spinning in the wrong direction. I thought it would be an easy thing to just switch the power wires to make the motor reverse. And it was, only the speed control ceased to function, and mandrel speed was a solid 200 rpm at all times. So I switched the wires back and put the motor in a a vertical position with the belt going through an angle of 90 degrees. This works quite well, and is the way the motor was originally oriented in the gramophone.
Then to the test! I set up the player on a gramophone near my amplifier, put a Blue Amberol on the mandrel and started the motor.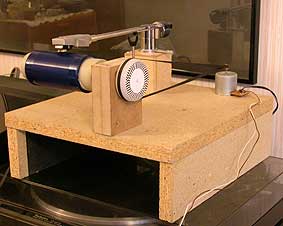 At first, the stylus tended to skid across the grooves, but after some adjustment of tonearm height it kept in track. I set stylus pressure so high that the body of the Shure M 75 MB pickup would only just clear the cylinder. I don't know exactly what the pressure was, as I had lost the counterweight adjustment weight, but it was a rather high pressure. While the stylus stayed in the groove, the tonearm tended to behave much like an old American car, swinging around in an irregular solo dance somewhere above the ground. Unfortunately this gave an audible effect, the sound from the player war unpleasantly pulsating.
In view of the results, I finally decided the pivoting arm is probably not such a good idea. Some phonograph makers have apparently reached good results with a pivoting arm, but it seems the construction is very sensitive to resonance given cerain combinations of stylus resilience, tone arm mass and length and so on and so forth. Anyway, I am not prepared to try to find out just why my particular attempt did not work out, and the remains of my experimenting are now with another builder with a different approach. Let's see what comes out of that.
Christer Hamp, 2000-2009